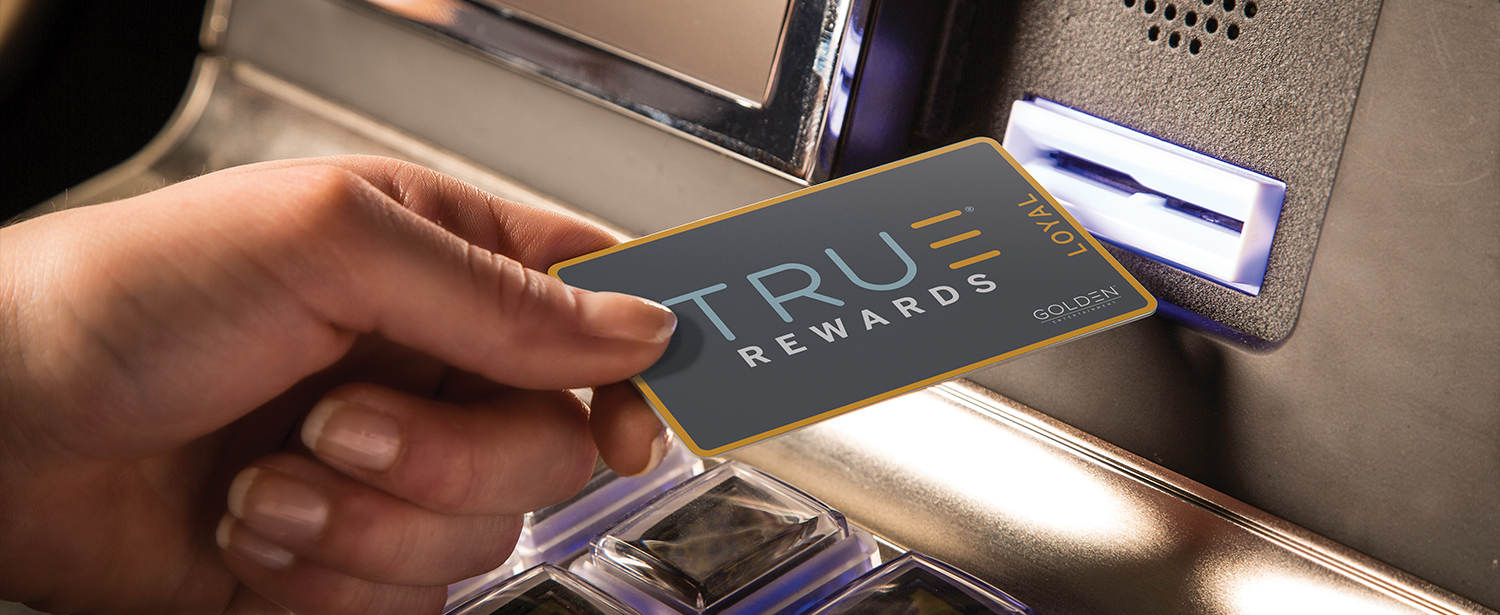 True Rewards
The True Rewards™ Players Club is our casino player rewards program. The program has five card tiers, making it fast and easy for members to move up in tiers to receive greater rewards! True Rewards kiosks or the True Rewards Center will give you information about your account and current rewards. Earn valuable points redeemable for slot play, comps and cash back! Use your card every time you play so you can qualify for other great offers including invitations to members-only events.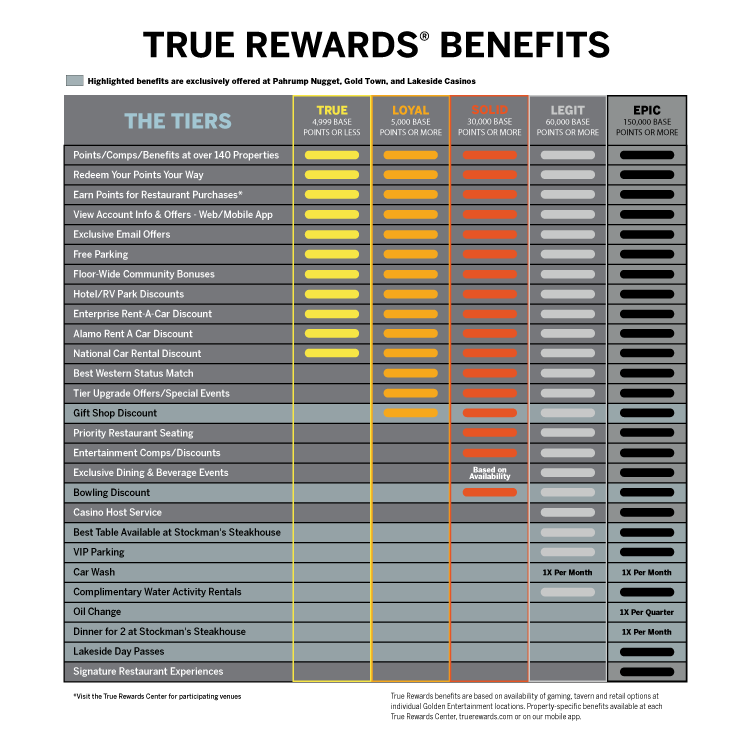 TRUE REWARDS PLAYERS CLUB FAQ
HOW CAN I RECEIVE A TRUE REWARDS CARD?
It's simple and easy. You can sign up 24/7 for your complimentary True Rewards membership at the True Rewards Center or at table games.
WHAT CARD LEVEL WILL BRAND NEW MEMBERS RECEIVE?
New True Rewards members will receive a True card.
WHEN CAN I START USING MY TRUE REWARDS CARD?
You may begin to use your new True Rewards card as soon as you receive it.
WHAT IS THE REDEMPTION RATE FOR POINTS?
You earn points, and you decide what you'd like to redeem those points for: cash, slot play and/or comps.
300 Points = $1 comp at any casino location
500 Points = $1 slot play at casinos
1,000 Points = $1 cash
DO MY POINTS AND COMPS EXPIRE?
Points and comp balances expire after showing no activity for a 13-month period.
WILL MY TRUE REWARDS CARD GIVE ME HEAD OF LINE PRIVILEGES ANYWHERE IN THE CASINO?
Based upon your tier there are line privileges for True Rewards card members. See the benefits grid above for details.
CAN TABLE PLAYERS EARN POINTS?
Table game players can participate and get cash back. You receive points and point multipliers, and can use your points for cash, slot play and/or comps.
IF I THINK MY POINTS ARE NOT RIGHT, WHO SHOULD I SPEAK TO?
Please visit the True Rewards Center.
CAN I GET UPGRADED TO THE NEXT TIER LEVEL DURING MY CURRENT PERIOD?
Guests are able to change tier levels daily based upon qualified play. Please visit the True Rewards Center for status and upgrades.
HOW OFTEN ARE CARD LEVELS FOR GUESTS EVALUATED?
Tier levels are evaluated semi-annually, typically on June 30 and December 31, looking at play for the previous 6-month period for local card holders and every 12-month period ending December 31 for non-locals.
DO I NEED IDENTIFICATION TO PICK UP A TRUE REWARDS CARD?
A valid government issued ID is required for all card transactions.
MY SPOUSE CANNOT COME IN TO GET A NEW TRUE REWARDS CARD. CAN YOU MAIL ONE?
We do not mail cards. Each member must be present with valid ID for all card transactions, so your spouse will need to come in person to get a card.
CAN MY SPOUSE AND I HAVE A JOINT MEMBERSHIP?
Accounts cannot be joined.